Competent Person Services | Statutory 3rd Party Inspection Services
Competent Person
A competent Person is a person or an Institution recognized as such by the Chief Inspector of factories to carry out tests, examinations, and inspections required to be done in a factory under the provisions of the Factories Act 1948, having regard to—
(i) the qualifications and experience of the person and facilities available at his disposal; or
(ii) the qualifications and experience of the persons employed in such institutions and facilities
available therein, about the conduct of such tests, examinations, and inspections, and more than one person or the institution can be recognized as a competent person concerning a factory.
Authorized Competent Person
GLOBAL INDUSTRIAL SOLUTIONS will provide Competent Person Services for inspecting various Pressure Vessels, Lifting Equipment, and others to comply with the factories act 1948 requirements.
We are Authorized Competent Person from the Government of Andhra Pradesh, and the Government of Telangana.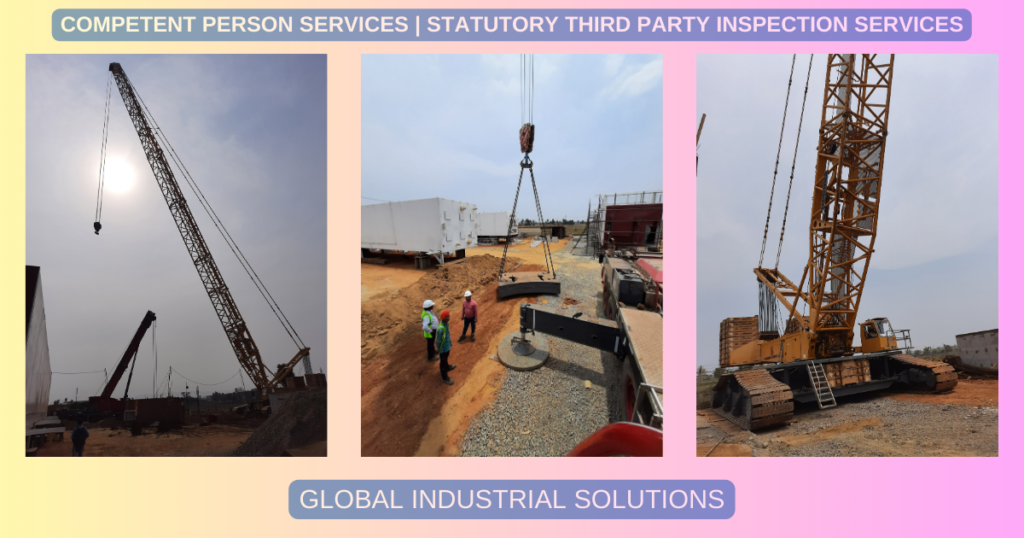 Statutory 3rd Party Inspection Services
GLOBAL INDUSTRIAL SOLUTIONS provides Statutory Third Party Inspection Services for the Inspection of the following at various factories in compliance with Factories Act Requirements:
Inspection and Certification of
Lifts and Hoists under Section 28 and Rule 55
Lifting machinery and lifting tackles under Section 29 and Rule 55-A
Pressure plant under Section 31 and Rule 56
Safety belts under Section 41 and Rule 61 – C
Thermic fluid heaters under Section 41 and Rule 61 – M
Ovens and Driers under Section 41 and Rule 61 – O

Schedule XV, ChemicalWorks under Section 87 Rule 95 
We have completed statutory 3rd party inspection assignments in various industries like Heavy Engineering, Oil&Gas, Steel, Cement, Pharma, Power, Ports, Container Freight Stations, Paper Mills, Jute Mills, Chemical Plants, etc.
Some of Our Esteemed Clients include NTPC, BHEL, Hinduja National Power Corporation, GAIL, BPCL, Reliance, Tata Projects, L&T, Wanbury, Singareni Collieries, Andhra Paper Mills, Nagarjuna Agri Chemicals Ltd., Ramco Cements, etc.
We will provide Good Quality Accurate Service, within the agreed time with immediate report submission based on actual inspection findings. We have qualified manpower, offices at Visakhapatnam, Hyderabad, with all the required inspection and testing equipment for inspecting on short notice.
Competent Person in Hyderabad
Contact Us for your Statutory Inspection/3rd Party Inspection Services as per the Factories Act for Andhra Pradesh, Telangana, Karnataka, and Maharashtra States.
Check Our Allied Services.