API CPD WEBINAR 2023 – 24, 25th November, 2023
The American Petroleum Institute (API), starting from January 1, 2023, the American Petroleum Institute Continuous Professional Development API CPD, was made mandatory for API 510, 570, and 653 certification renewal.
The American Petroleum Institute API is conducting various certification programs popularly known as API Individual Certification Programmes API ICP.
API CPD CONTINUING PROFESSIONAL DEVELOPMENT – EVERY 3 YEARS
Beginning January 1, 2022, Continuing Professional Development (CPD) hours will be included in the 3-year recertification requirements. CPD activity must be relevant to the API 510 certification.
ICP will have a phased implementation of the CPD hour requirement beginning with 8 CPD hours required for individuals whose certification expire after January 1, 2023. The full CPD requirements of 24 CPDs will be implemented for those expiring on or after January 1, 2025. See the table below:
Recertifying Year
Number of CPD Hours Required
2023
Recertifying candidates must submit 8 CPD hours completed within the last 3 years.
2024
Recertifying candidates must submit 16 CPD hours completed within the last 3 years.
2025
Recertifying candidates must submit 24 CPD hours completed within the last 3 years.

(All recertifications from this point forward must present 24 CPD hours each 3-year cycle. No more than 16 hours may be from one activity category)
Review the CPD Guidance Document for additional information on what activities are acceptable. Activities should vary between categories. The minimum should be across two of the categories.
The API Certificate Holder must upload proof of activity to Education page on his ICP Portal account along with their Recertification application.
Fill out the API CPD Activities Form if there is no other form of proof. The API Certificates holder has to print this form and sign in person prior to submitting the Recertification application.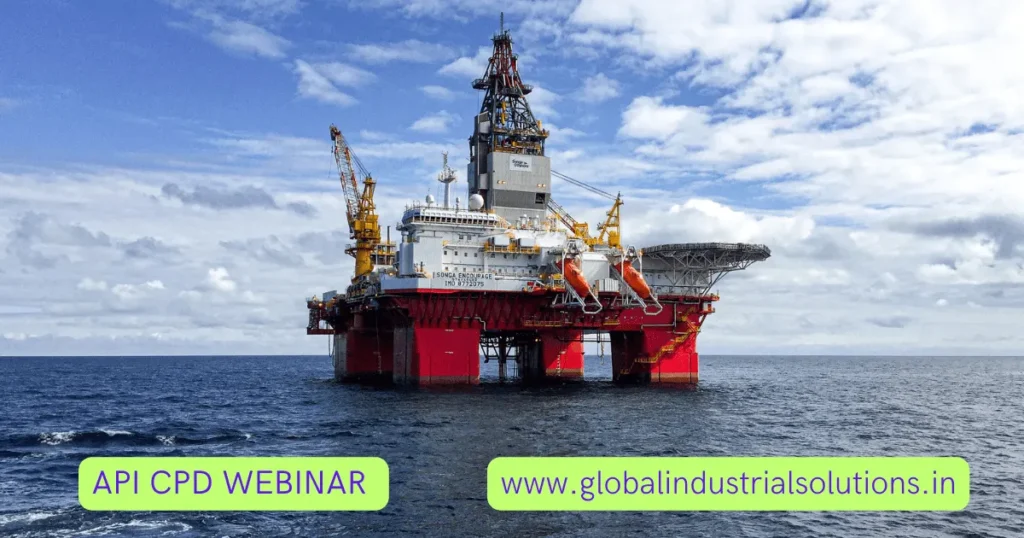 GIS API CPD WEBINAR
Global Industrial Solutions is a renowned name for Quality Training in the Industry. Serving the Industry for the past several years, GIS is conducting Webinars on various Industry Related Topics as per the API CPD Requirements stipulated by API.
API CPD THIRD-PARTY TRAINING REQUIREMENT
We are well recognized for Training in the industry for the last several years.
The training was developed and delivered by highly qualified individuals with years of experience in the industry with high credentials.
The training/webinar subject is directly related to the petrochemical industry and the ICP certification and the topic is from API Insisted Industry Related Topics
The training will be given with clear learning objectives
The training/ webinar will be of 4 hrs duration each day, for TWO continuous days. Mostly will be conducted on holidays so that it will be convenient for working professionals from various parts of the world.
There will be an assessment for each participant at the end of the course/webinar. All the attendees must attend the assessment test.
Upon successful completion of the course/webinar and assessment test, the attendees will be provided with a signed API CPD Activity Form.
This form has to be submitted during the candidate API 510/570/653 certificate renewal application to the API.
FAQ
Q: Does the CPD requirements replace ICP's requirement for proof of continued inspection experience or the web quiz?
 A: No. The CPD hour requirement is in addition to the existing recertification requirements. For each recertification period, Certificants must also still be verified for continued inspection experience for 20% of the last 3 years. Every six years (every second recertification), Certificants must also still take and pass a short online web-quiz.
Q: What if I am a few hours shy of the required CPD hours when my certification expires?
 A: Recertifications have a 90-day grace period after your certification expiration date. You may complete the remaining hours within the 90-day grace period and submit them to ICP.
Q: If I have three certifications, do I have to complete 72 CPD hours in 3 years?
 No. You can apply CPD credit hours across certifications that are expiring within a 3- year recertification period. If you hold an API 510 and API 653 both recertifying in 2024, you need 8 CPD hours for each certification each year. If you take a Mechanical Integrity training course for 8 CPD hours in 2023, these 8 CPD hours can be applied to both the API 510 and API 653 for those recertification terms.
Q: Does ICP have a list of approved trainers/training courses that grant CEUs?
 A: No, ICP does not have a list of approved trainers or courses. When selecting a training program, Certificants should ensure the following are met:
Training is to be provided by a recognized party, as well as developed and delivered by qualified individuals not directly employed by the Certificants
The subject is directly relevant to the petrochemical industry and the ICP certification (see the definition of this in Industry Related Topics)
The training is to have clear and relevant learning objectives, and not be related to commercial marketing activity.
For one day, or multi-day courses, there should be no more than 10 contact hours in a 24-hour period
CEU equivalent hours should not exceed the time needed to complete the subject
Must evaluate the participant's knowledge through some assessment mechanism (i.e., quiz/test at the end of a module or course)
Must provide documentation showing completion or mastery of the course (certificate or transcript)
REGISTER FOR GIS API CPD WEBINAR
| | |
| --- | --- |
| Duration of the Webinar | 8 Hrs |
| Date and Time | 24, 25th November, 2023. 4 Hrs On Each Day. 2.30  PM to 6.30 PM IST. |
| Mode | Online through MICROSOFT TEAMS |
| Topic | Welding Processes, Welding Inspection, WPS, PQR Review. All the Attendees must complete the Assessment Test at the end of the Webinar. |
Download the Webinar Registration Form and API CPD Activity Form. Fill it out and mail it back to us.
GIS API CPD WEBINAR REGISTRATION FORM
GLOBAL INDUSTRIAL SOLUTIONS,
H.NO.: 27-1-65/1/1,
SRI SWARNA TOWERS,
SRINAGAR, GAJUWAKA,
VISAKHAPATNAM, ANDHRA PRADESH
INDIA – 530026
www.globalindustrialsolutions.in/
EMAIL:
info@globalindustrialsolutions.in
globalis.gis@gmail.com
PH: +91 9959482868